On a cooler-than-normal and wetter-than-hoped-for May day, more than 200 area volunteers bundled up and pounced on 14 work projects spread across the City of Goshen, as part of lacasa's 26th annual Help-A-House event.
As has become the tradition, the day started with a pancake breakfast provided by the Exchange Club at St. Mark's United Methodist Church. Volunteers then headed out to their assigned sites to replace roofs and windows, tear out failing sidewalks, landscape, paint, clean up trash, pour concrete and (everyone's favorite) demolish.
lacasa and the City of Goshen have partnered closely in making this program available for all 26 years of its existence. The City makes Community Development Block Grant funds available for the needed improvements done to the residences of home owners who lack means.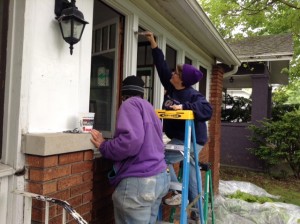 Volunteers paint windows on Emerson St.
Goshen Mayor Jeremy Stutsman, who led a crew of City Council members, knows the Help-A-House drill well. "This is my 8th or 9th year volunteering and my 6th as a crew leader. Honestly, this is one of those days that I mark on a calendar and look forward to. It's fun. You get so much done in a day. It's great to see the excitement of the homeowners."
Francisco and Luisa Berdejo, the owners of the Plymouth Street house that the City of Goshen crew worked on, are thrilled. "To have the Mayor and so many others from the City working on our house is a great honor. Our roof was leaking and our windows weren't insulated, so it will make a very big difference." The roof was completed on Saturday and the windows will be done shortly.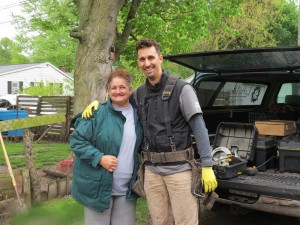 Goshen Mayor Jeremy Stutsman with happy home owner Luisa Berdejo
For Luis Alvarado and his wife and three kids, the work that a volunteer group from Silverwood Mennonite completed on his house means a lot. "It's amazing. There's all of these people here working so hard." Of course, Luis was working right along with them. With a new roof, the Alvarado family can be assured that the weather outside won't affect the weather inside any time soon.
Along with all of the volunteer hours donated, over 70 businesses, individuals, churches and foundations gave financially this year to support the Help-A-House effort. Along with Lead Sponsor State Farm, Key Sponsors included the Community Foundation of Elkhart County, Fidler Family Fund, Interra Credit Union, IU Health Goshen Hospital Foundation, Lake City Bank, and NIPSCO.
"An event like Help-A-House could not happen without broad community support and ownership," commented lacasa President Larry Gautsche. "We're fortunate to live in a community that buys into the idea of neighbors helping neighbors."
Fueling the day's efforts were donuts from Dutch Maid, Dilly Bars from the Pike Street Dairy Queen, Pizza from Mancino's, Papa John's and Pizza Hut, and sandwiches from the South Side Soda Shop, Subway and Jimmy John's.
State Farm is Help-A-House's lead sponsor for the 16th consecutive year. Agent Scott Roth led a crew at The Little House that Ben Built, a home whose mission is to house victims of domestic abuse. Scott has been heavily involved in this lacasa home since it opened. "Help-A-House got this home looking great again and ready for the next family who will live here."
From new roofs, windows and sidewalks to painted homes and sheds, to dumpsters full of demolition and clean-up work, a lot was accomplished, especially for a dreary day in May.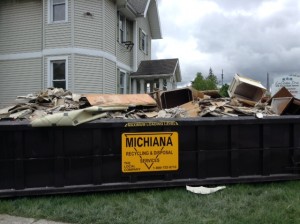 The Goshen Rotary Club got some serious work done on Lincoln Ave! This is a blighted property that will soon be an asset to the community. Thanks!!!
Take action:
Learn more about Help-A-House here.
Learn more about volunteering with lacasa.
Donate to further lacasa's mission.