Dream$avers
Are you saving to reach your dream and need assistance? Lacasa's Dream$avers program can provide you with up to $4,500 in matching funds to help make your dreams a reality.
IMPORTANT NOTE: Lacasa is currently accepting Dream$avers applications and inquiries! Fill out the online form below to get started.
You Can Reach Your Home, Education, and Professional Goals! 
Who is Eligible?
IDA clients must be:
-An Indiana Resident
-Employed
-Below 200% of Federal Poverty Guidelines (See chart)
-Able to meet screening requirements*

*List of required documents:
Proof of Income
Most recently filed tax returns including W2's (for all members of your household)
4 consecutive weeks of most recent paystubs (for all members of your household over 18)
Most recent monthly Checking and Savings Bank Statements OR printout from bank
Documentation for any additional income including second or third jobs (if applicable)
Proof of Income (not included in eligibility requirements for income)
Current year Social Security Award letter (if applicable)
SNAP Benefit printout for current year (if applicable)
Child Support and Alimony (if applicable)
Identity and Proof of Address
Color copy front and back of License and Social Security Card
Proof of address if different from your license
| Family of 1 | Family of 2 | Family of 3 | Family of 4 | Family of 5 | Family of 6 | Family of 7 | Family of 8 |
| --- | --- | --- | --- | --- | --- | --- | --- |
| $29,160 | $39,440 | $49,720 | $60,000 | $70,280 | $80,560 | $90,840 | $101,120 |
*For families/households with more than 8 persons, add $9,440 for each additional person
PROGRAM TIMELINE
The program minimum is 2 fiscal years (fiscal year: July-June). Up to $800 of your personal savings will be matched 3:1 during each fiscal year in the program for a maximum match of $4,500 total. Program fee is split when the account is opened ($50) and when the participant withdraws their funds ($149).
Program applications are sent on the first day of the month. Fill out the inquiry below before the first of the month for faster processing time. Accounts are limited to one per household per lifetime. Applications are limited to two per household, per year. If your household does not complete application steps before the application deadline or is denied twice in one year, the next opportunity to apply will be the following calendar year.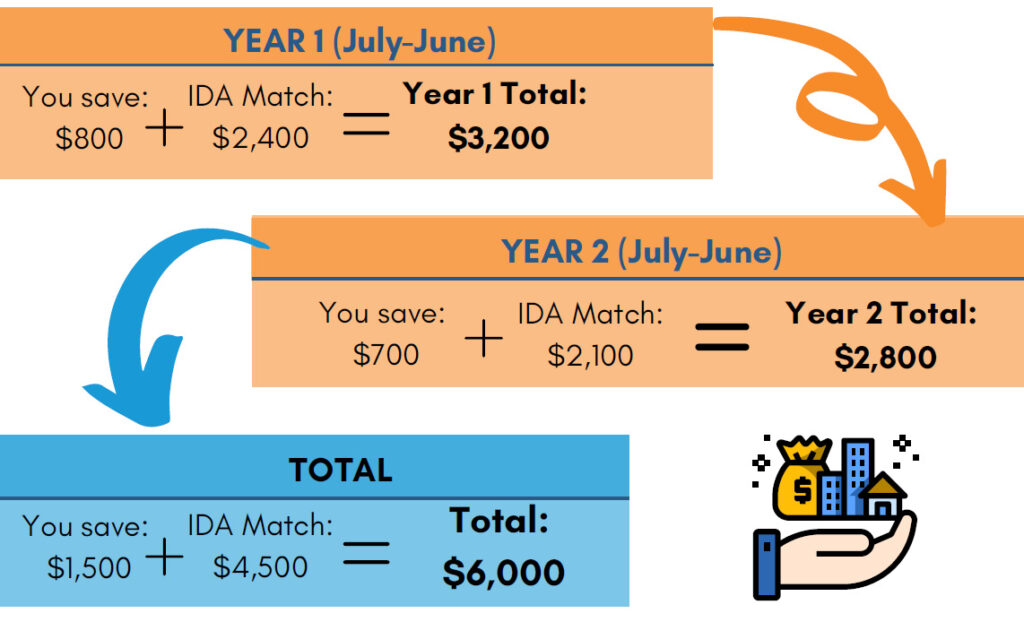 Lacasa's Dream$avers Program features FOUR categories. Expand the links below to read more!

Providing Elkhart County with empowerment, stability, and vitality. All thanks to you.

Providing Elkhart County with empowerment, stability, and vitality. All thanks to you.