Staff Feature - Tessie Molina, Foreclosure Prevention Counselor Extraordinaire
For a nonprofit to fulfill its mission, it has to have great staff. We want folks like you, who invest in and support lacasa's work, to get to know some of our staff. We're blessed with a group of passionate, mission-minded professionals who bring our mission to life daily.
Tessie Molina has overseen incredible success in lacasa's foreclosure prevention work. In her time as a Counselor in this area, the rate of foreclosure cures has tripled! Last year, lacasa assisted 196 households in avoiding foreclosure through Indiana's Hardest Hit Fund and direct negotiations with lenders.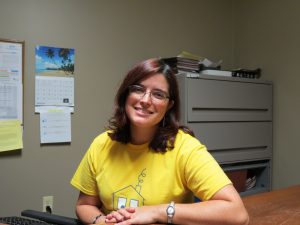 I asked Tessie a few questions about her experience here at lacasa and her responses are below. Views expressed are her own.
What is your role at lacasa?
HomeOwnership Counselor (Foreclosure Prevention)
How long have you worked at lacasa?
I've been here 5 years in August.
What is your favorite part about working at lacasa? 
The impact on the community & the team of staff members with hearts to serve the community & live out the lacasa mission/vision of "Helping Families, Improving Neighborhoods."
What is something that you value about working here that is different from what you have experienced working with other employers?
I value the sincere care placed by each of our employees on the people we serve, be it our clients, our partners, leaders in the community and any lives touched by our services. The mutual support & encouragement received from co-workers is incomparable to any other employer. This is primary the reason I have stayed with lacasa = the workplace environment. Oh, and the relationship with my supervisor – open, respectful & always available to talk things through. I never fear going to her & always feel her support/encouragement/guidance when needed.
What is your take on the benefits we get at lacasa?
Coming from an HR for-profit employer environment with > 200 employees on average, I didn't expect such a small organization to offer such excellent benefits. What I value most is the offered accrual of PTO so shortly after hire. The 403(b) contribution was also impressive as well as the holidays. I appreciate that lacasa does what it can to try to make health insurance affordable.
How's does lacasa's mission match up with your personal sense of mission?
It matches so well with my personal motivation in life of showing God's love to others (as He has showed me), and that they may see also that the reason I do what I do is through God's love for others. I desire to help & encourage with empathy, and my position working with families in crisis has definitely fulfilled this.
What else would you say about your experience working at lacasa?
It is an amazingly rewarding job that I greatly enjoy even amidst frustrations with clients and/or projects. The benefits far outweigh those few moments. I really truly feel that I am making a direct impact / a difference in the lives of the community, households, families, individuals. I love my job & wouldn't trade it for the world!
Thanks for all you do here Tessie!
Working at lacasa comes with some benefits that are hard to duplicate. lacasa's staff is mission-minded and excellence-oriented. We see lives changed daily by the work we do. If you or someone you know would be a good fit for the lacasa team, check out our open positions here.
Take action!
Keep Tessie hard at work serving the community by making a donation!