The Hawks
Apartments for Artists and Entrepreneurs
The Hawks, built in 1870, is a former furniture factory along the historic Mill Race canal in Goshen, Indiana. On April 2015, The Hawks became home to 35 sunny one-and two-bedroom loft apartments.
The Hawks is a live/work community designed for artists and entrepreneurs with space to work, live and entertain.
Goshen, Indiana, is a small city with big city amenities. In the middle of its renaissance, Goshen has a population of 30,000, and is home to a mix of entrepreneurs, artists, families, brewers, go-getters and do-gooders.
Outside your door, you will find miles of nature trails, five artist guilds, a farmer's market, a thriving live music scene, six performing arts centers, locally brewed libations from coffee to beer, a vibrant downtown that supports the arts and business co-working spaces.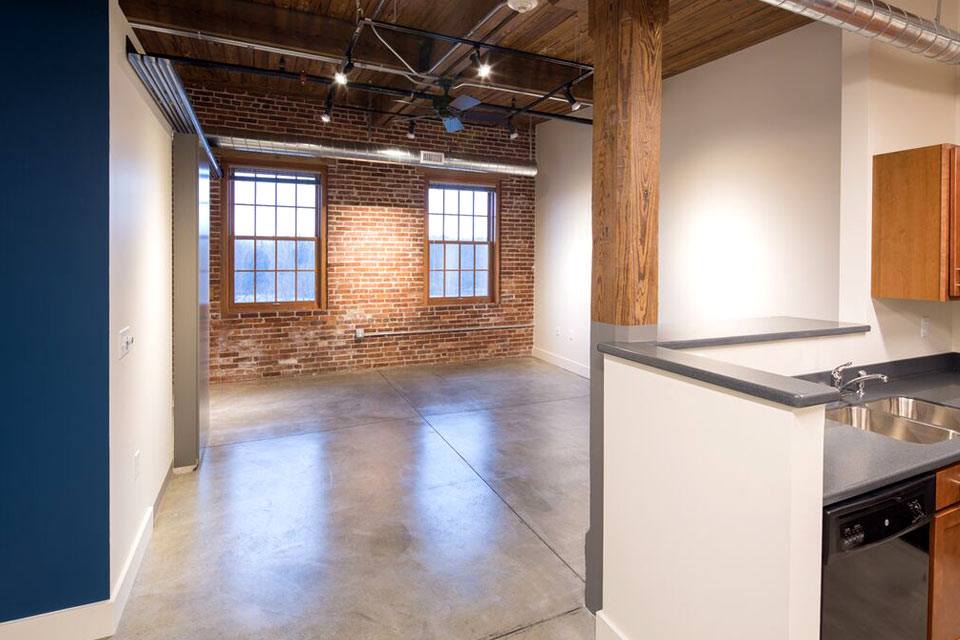 Gorgeous Design
Each unit at The Hawks is unique and brimming with historic details. Just inside, you can expect anything from sliding walls, sealed concrete floors, utility sinks, exposed brick, high ceilings with beams and skylights.
Beautiful Views
Just outside every window you can find picturesque nature scenes or views of the historic downtown architecture. The Millrace  is a 2.7 mile crushed-stone trail skirting the edge of a 17 acre park, and canal. An excellent bike trail and walking path.
Reasonable Pricing
Loft apartments are anywhere from 750 to 890 square feet with monthly rent ranging from $424 to $1020. All utilities will be covered by Lacasa Inc. with the exception of cable, Internet and telephone services.
One Bedroom Floorplan Example
This one bedroom apartment floorplan is a typical unit in The Hawks. Here, you can see the spacious, open floorplan that still accounts for a private bedroom and large bathroom area.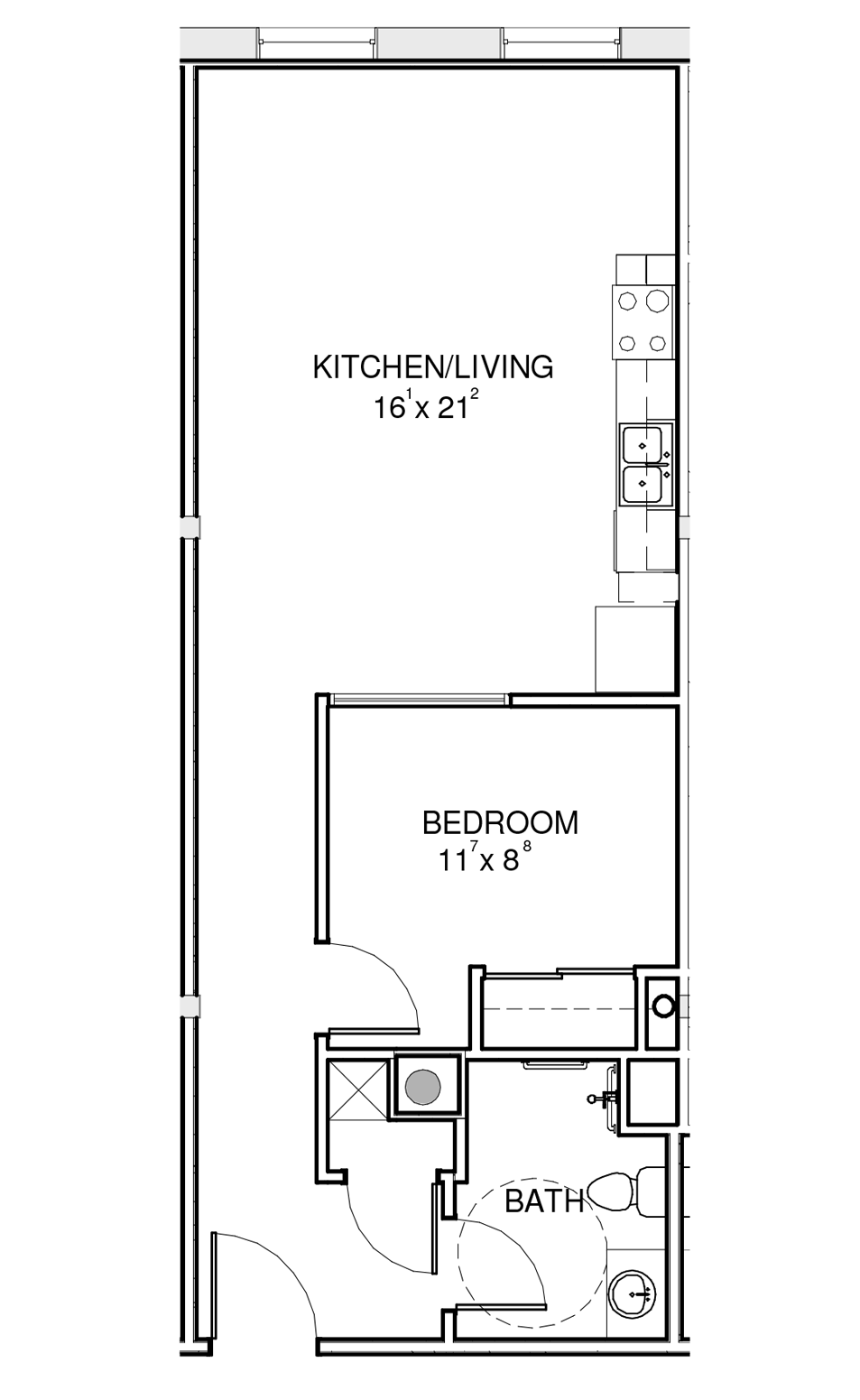 Two Bedroom Floorplan Example
This floorplan represents a typical two-bedroom unit, which optimizes the shared living space for ample space and comfortable living.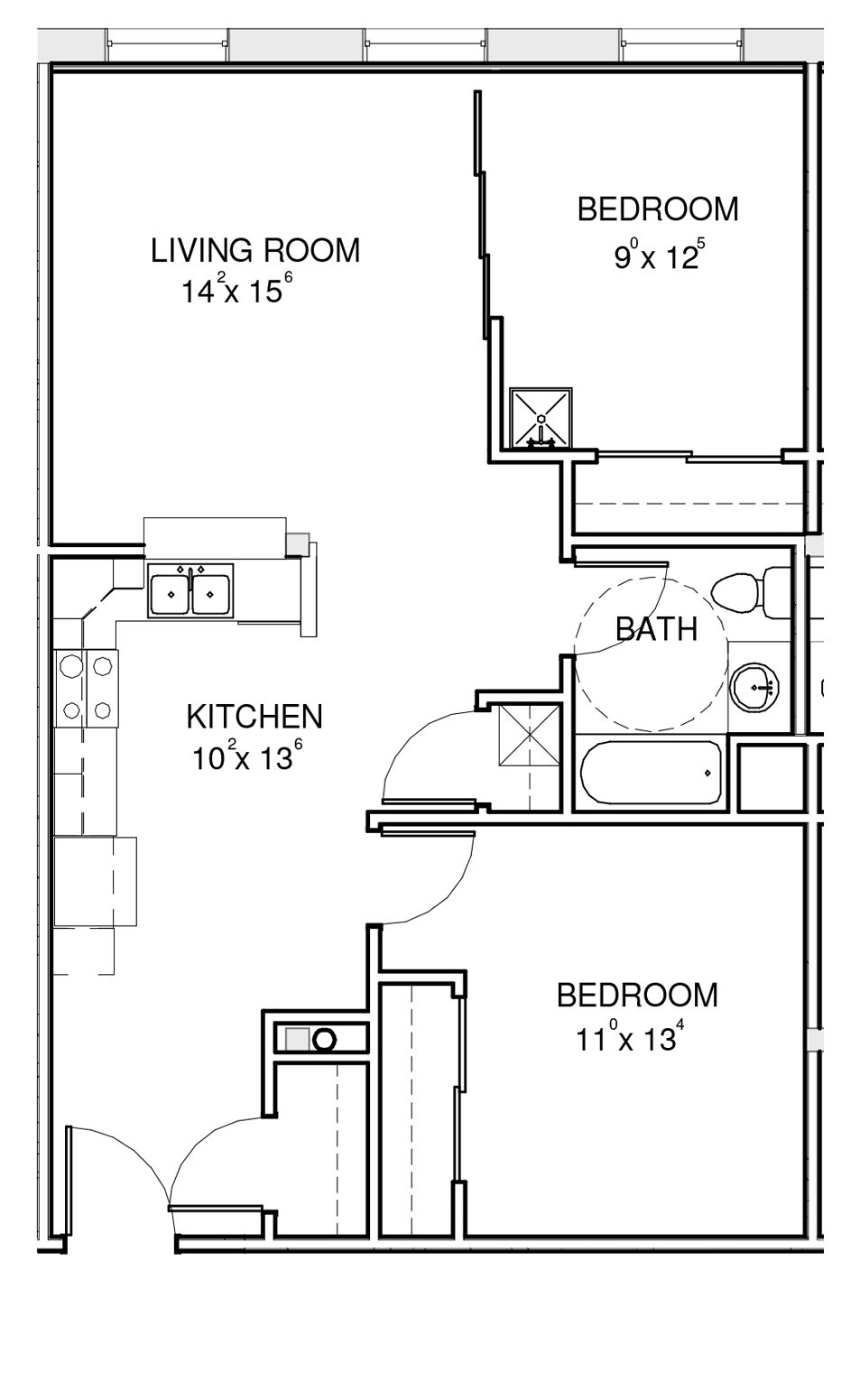 A live-work community with space to work, live and entertain.
35 loft-style apartments in a historic building designed for artists and entrepreneurs.
Please call for current rental rates.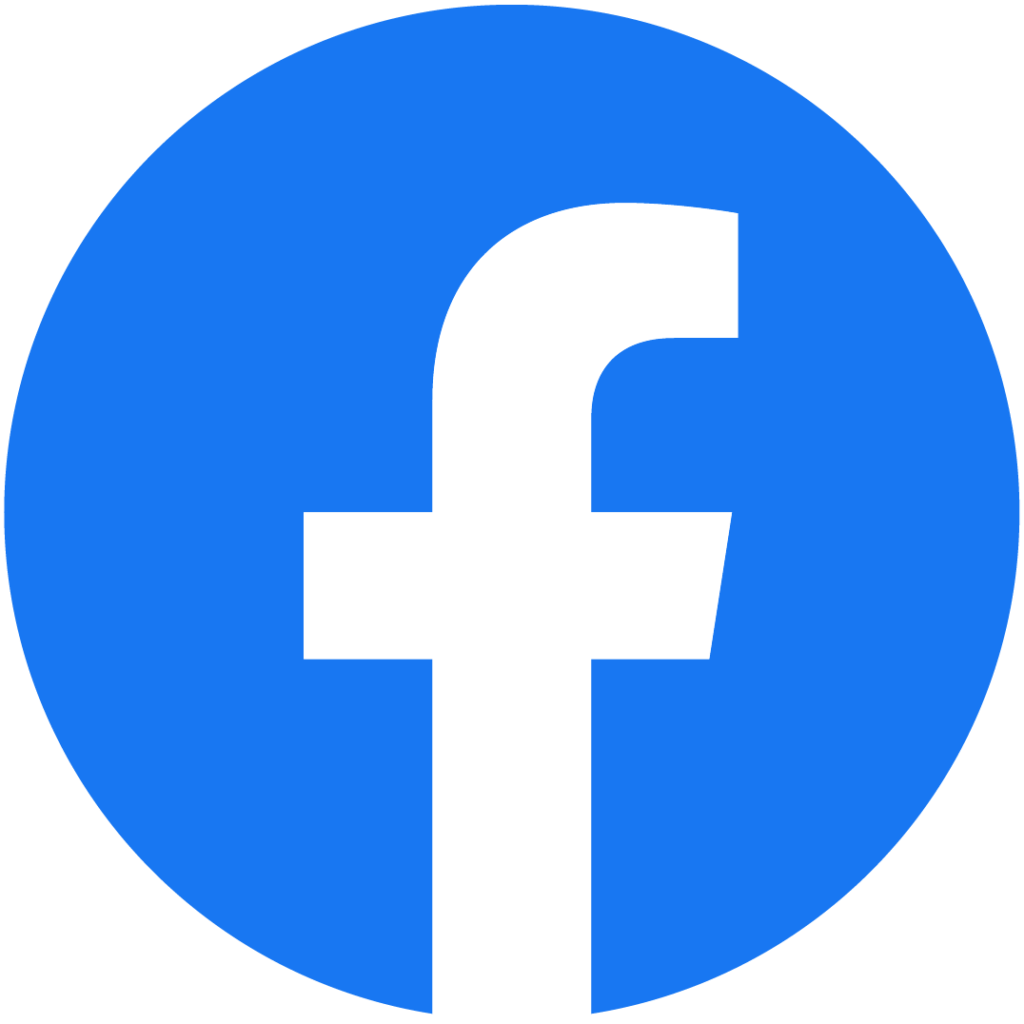 Connect to The Hawks Facebook page
Unit size: 700-900 square feet
Floors: 3-elevator-ADA accessible units
Bedrooms: 1 and 2 bedrooms
Bathrooms: 1
Please call for current rental rates. 
Building Amenities at The Hawks
Art Gallery
Resident artists are encouraged to display their work in the shared gallery spaces throughout the building.
Community Room
At the core of The Hawks artist and entrepreneur live/work community is collaboration – "the whole is greater than the sum of its parts."
Elevator
Fitness Room
A variety of fitness equipment, Television, Cork floor yoga studio
Garden & Picnic Area
Raised Bed Community Gardens, Outdoor Seating/Picnic Area with BBQ Grill along canal, Millrace Trail
Green Rating
National Association of Home Builders Green Rating – "Silver Rating"
Laundry Rooms
Two sets of coin-operated units on the first and third floors.
Parking
Permeable Pavement Parking Lot On Site for Car & Bicycle Parking
Tenant Association
Travel
Short distance from Millrace Bicycle/Pedestrian Trail, Indiana Toll Road, Amtrak Station, South Bend Airport, South Shore Line and Interurban Bus Stop.
Loft Amenities at The Hawks
Every Creative's Wish List
Utility Sink, Movable Walls, High Ceilings, Exposed Brick Walls and Beams and Lots of Natural Light!
In Your Kitchen
Dishwasher, Frost-free Refrigerator, Electric Range, Garbage Disposal, Microwave, European-Style Kitchen with Breakfast Bar in some units
Utilities
Central Air Conditioning & Heating, Water, Sewer and Trash included in utilities.
WiFi and Cable
Cable and High-Speed Internet access available for purchase.
The Hawks, 215 W. Madison, Goshen
Please fill out the form below or you may call our office at 574-533-4450.
What Is Lacasa, Inc.?
Lacasa, Inc. is the developer of The Hawks. Lacasa is a nonprofit housing agency, with programs to help clients achieve financial stability, find a new home, prevent foreclosure, find affordable rentals, get home repair assistance, immigration counseling, and neighborhood engagement. Lacasa believes that every family deserves safe affordable housing!
Who is on the Selection Committee?
The five-person committee is comprised of a representative from the City of Goshen Redevelopment Commission, Lacasa staff and community artists/entrepreneurs.
How do I Get on The List?
Read through the information in the qualifications section to learn about rental guidelines at The Hawks. Then, you can contact us for an application!
Still have questions? You can call our Goshen leasing office @ 574.537.1896
Do I Have to Be an Artist/Entrepreneur to Live at The Hawks?
Anyone who qualifies for affordable housing may apply to live at The Hawks; but, we give preference to applicants who participate in and are committed to arts and/or entrepreneurship.
Applicants do not have to earn their income from their art or business idea.
How Do You Determine Who is an Artist/Entrepreneur?
An artist or entrepreneur is a person meeting any of the following definitions:
A person who works or is skilled in any of the fine arts, including but not limited to painting, drawing, sculpture, book art and print-making.
A person who creates imaginative works of aesthetic literature, costume design, photography, music composition and architecture.
A person who creates functional art, including but not limited to jewelry, rugs, decorative screens and grates, furniture, pottery, toys and quilts.
A performer, including but not limited to singers, musicians, dancers, actor and performance artists.
A person who practices a trade or handicraft.
A person who organizes, manages and assumes the risks of a business or enterprise involving the employment of no more than three persons.
Note: Each unit has to have at least one practicing artist or entrepreneur. Non-artist family members or roommates are welcome.
What is a Live/Work Community?
A live/work community is a residential building in which each unit has extra space (100 to 150 square feet) that the artist/entrepreneur can use as a working space. Live/work units at The Hawks have extra high ceilings, large windows, durable surfaces and wide doorways. Our lofts are designed to accommodate and foster a variety of creative processes. The Hawks also includes common areas such as shared gallery spaces, a meeting room and green space that encourage tenant engagement, cooperation and community involvement.
What Happens if my Income Changes While I am Living at The Hawks?
Once you move in, you do not have to remain below the maximum allowable income. There will be an annual re-certification process which may result in rent adjustments.
What is the Pet Policy?
Pets are not allowed in our multi-loft facility.
Are there ADA Compliant Spaces?
Yes! We have one (1-bedroom) and three (2-bedroom) units that are ADA compliant.
What if I am a Full-Time College Student?
You cannot be a full-time student (12-credit hours) living at The Hawks unless someone living with you is not a full-time student. Exceptions may apply.
What K-12 School District is The Hawks in?
Goshen Community Schools offers a quality educational experience, preparing students for a globally competitive world.
Chandler Elementary School, grades K – 5
Goshen Middle School, Grades 6 – 8
Goshen High School, Grades 9 – 12