On Tuesday, June 27, 2017, lacasa sponsored a trip which took residents from our Water Tower Place location to the beautiful Wellfield Botanic Gardens in downtown Elkhart. Water Tower Place is designed for residents age 55 and older. This was the first of many trips arranged by Resident Services Manager Pam McGregor to provide an opportunity for our senior residents to get out and fellowship with one another.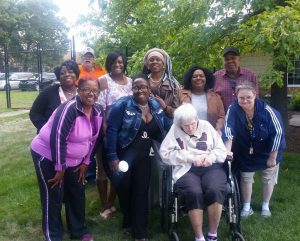 The trip started with a bus ride sponsored by the Tolson Center in Elkhart. Upon arriving, the group gathered together in the brightly blooming gardens to enjoy sack lunches. After eating, those who were able explored the gardens, and did some sight-seeing and walking. Others sat together and enjoyed the fresh air and pleasant surroundings.
One of the residents, who doesn't normally talk or walk, did on that day! This was very moving, as the other residents applauded her. She said she had a great time.
Pam told us, "I would like to thank lacasa for investing in its residents! It's things like this that add to their quality of life and they are truly grateful!"
lacasa currently provides excellent property management and support services for 325 households. Our strategic plan states a goal to expand this to 700 by 2021, more than doubling the number of people benefiting from the better quality of life, experience of dignity, and feeling of empowerment that living in a lacasa property promotes.