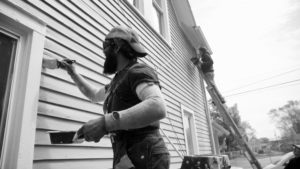 Up to 20 Home Slots Available for 30th Annual Help-A-House
Applications are now available for the 30th annual Help-a-House home repair program in Goshen. In partnership with the City of Goshen, Lacasa's Help-a-House program for households with limited income addresses issues that affect the safety and accessibility of the occupants or may affect the efficiency of the house.
Help-a-House completes major repairs such as furnace replacements, window replacement, and accessibility additions. Projects like this lead to greater safety, stability, accessibility, and efficiency but can be tough to afford when income is limited. If not completed, they lead to further deterioration of both the home and the inhabitants' health.
Help-A-House is a partnership between Lacasa and the City of Goshen, which provides funds for Help-a-House through a Community Development Block Grant. The funds invested come from a revolving loan fund, so if the homeowner sells their home, the dollars are returned, helping another Goshen resident. The Help-A-House Community Work Day on the second Saturday of May (May 9, 2020) is the program highlight, in which hundreds of volunteers complete work on as many as 20 properties in Goshen.
Over 560 homes and families in Goshen have benefitted from this program since its inception in 1991. Homeowners should apply as soon as possible, but no later than March 1. Applications are treated on a first come first serve basis. To find out more or apply, visit lacasainc.net/programs/help-a-house/ or contact us at 574-533-4450 or rocio.arevalo@lacasainc.net.