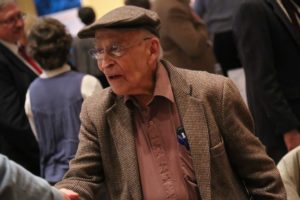 Reflecting on the Life Moses Beachy, an Original Founder of Lacasa, Inc
We were saddened by the passing of Moses Beachy. Moses was one of the original founders of Lacasa in 1970 and continued as our Executive Director/President until 1988.
"Lacasa and this community wouldn't be what they are today without Moses's visionary leadership in our founding years. I'm thankful for his contribution and for the durability and lasting impact of what he helped to start," – Chris Kingsley shared on Moses's impact on the community and Lacasa's legacy.
Lacasa's former President Arden Shank said "Moses was profoundly committed to the causes of economic and social justice. His passion for the work was contagious and inspiring. He had the vision for an organizational response to the needs and the injustices he saw in the community. I had the privilege to work with him for two years, and learned so much from him. Those two years shaped my thirty years of work leading Lacasa and Neighborhood Housing Services of South Florida."
Memorials may be given to Seniors for Peace, East Goshen Mennonite Church or Lacasa.