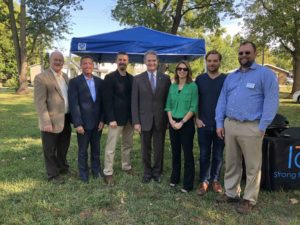 Addressing the Workforce Housing Shortage in Elkhart
ELKHART, IN: Lacasa, Inc. celebrated its newest building project, the Modular Workforce Housing Pilot Program, with an event on Thursday, September 19 at the site at 120 W Indiana Ave., Elkhart IN 46516. Those celebrating the new development with Lacasa included Elkhart Mayor Tim Neese and Jacob Sipe, Executive Director with IHCDA in Indianapolis. The board of directors for the Indiana Housing and Community Development Authority awarded Lacasa a $500,000 grant to help address what it calls Indiana's workforce housing shortage.
"At Lacasa, we believe that all we do needs to be built to last – the programs we provide need to deliver lasting positive outcomes and the properties we develop and manage must be efficient, sustainable, and appealing," said Lacasa, Inc. president/CEO Chris Kingsley. "Modular homes still use the same materials as site-built homes, but are constructed in an indoor, quality-controlled environment. The cost of construction can be reduced along with the time to complete the new home." continued Kingsley. "Lacasa is committed to providing affordable and sustainable workforce housing in Elkhart and is thrilled with the opportunity through this funding to pilot the use of quality modular housing toward that end."
Jacob Sipe, Indiana Housing and Community Development Authority's Executive Director, said, "This program allows us to serve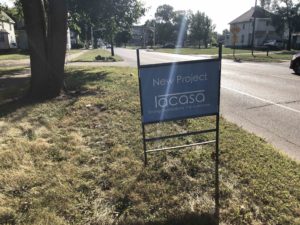 as a conduit between not-for-profits, local units of government and modular housing manufacturers and dealers."
The Modular Housing Workforce Project will provide 3, single family, housing units on Blight Elimination Program lots in Elkhart. Each home will consist of 3 bedrooms, 2 bathrooms, with approximately 1400 square feet of living space. Completion is expected by fall 2020. The program is structured as a revolving fund, allowing proceeds from the sale of the first three houses to be reinvested in future workforce housing for home ownership.
Other partners participating in the announcement were IHCDA Executive Director Jacob Sipe, Elkhart City Councilman Dwight Fish, and Next Modular Owner Joel Comino.
The project is funded by IHCDA through a newly created program called the Modular Workforce Housing Pilot Program. Next Modular and Heckaman Homes will construct an extremely energy efficient property and Kern and Kern Realty will oversee the sale of the homes for Lacasa.
Links to additional coverage for event: