­­­­­­­­­­­­­­­­­­­­­­­­­­­­­­­­­­­­­­­­­­­­­­­­­­­­­­­­­­­­­­­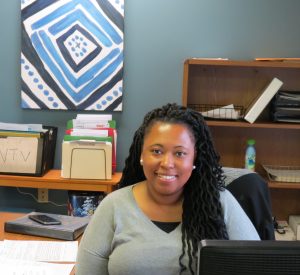 Latassia Miller is one of lacasa's newest employees. She is a Property Manager, based at Arbor Ridge. She has worked as a property manager at for-profit companies for 12 years. This is the first nonprofit agency she has worked with.
She moved back to the area after living in a variety of places: Los Angeles, Denver, and Alabama. She had never heard of lacasa, but a friend posted the job ad on her Facebook page. Latassia applied and was hired. She says she had a very fortunate transition: she came back to Elkhart June 26, and started with lacasa July 10!
From her office at the Arbor Ridge apartment complex, Latassia manages rentals all over Goshen, including the Hattle, the Shoots, the Hawks, Westplains, and Lincoln West. She is pleased to say that they currently are leased up 100% at Arbor Ridge.
Latassia says, "lacasa does a lot for the community. I never knew there were so many different entities within lacasa. It makes me feel proud to get up and come to work. I love what I do, and when I talk to people, they say, 'I know lacasa, they helped my mom, they helped my friend.' I found out my own cousin bought her first home through a program at lacasa!" She adds, "I recommend considering lacasa for rentals or for homebuying. It's like a one-stop-shop!"