A group of Goshen citizens were inspired in 2016 to create The Maple City Multicultural Fair after attending a Community Leadership Conference (sponsored and encouraged by lacasa, Inc). This year's planning committee was composed of Deb Jones, Elias Garcia, Manuel Cortez, and Marilyn Torres.
lacasa Board Member Deb Jones gave a review of this year's event (August 26, 2017).
The weather was perfect, Deb noted immediately. It was difficult to count the attendees, but they estimate that 3000 or more visited over the 6-hour timeframe of the Festival. Music was organized by Elias Garcia, and featured great variety, including a rapper and a drum circle. Radio Horizonte broadcast live for all 6 hours.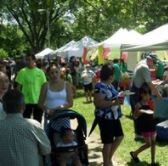 There were food vendors from India, Guatemala, Ukraine, Mexico, Palestine, and El Salvador. Deb said she tried pupusas for the first time.  She is pleased that food vendors offer tasting-size portions, mostly priced in the $2-4 range, so people can try different kinds of food.
Deb said they have a minimal budget, and that the support of the City of Goshen is huge. Half of the funds they raise go to costs for the music and the stage, toilets, signs, t-shirts and of course, insurance.
There were new options for children this year. It was a benefit to hold the festival after school started, because the schools promoted it to their students.
A firetruck, a police car and an ambulance were on hand for kids to climb on and explore. This was the first year that children received "passports" which could be stamped at the food booths (no purchase necessary), and vendors were encouraged to tell about their countries of origin. A child who filled the passport with stamps could get a Multicultural Festival t-shirt.
lacasa is glad to be part of the Maple City Multicultural Festival, and the work of Board Member Deb Jones is greatly appreciated.