For a nonprofit to fulfill its mission, it has to have great staff. We want folks like you, who invest in and support lacasa's work, to get to know some of our staff. We're blessed with a group of passionate, mission-minded professionals who bring our mission to life daily.
Mark Morris is a carpenter at lacasa. At lacasa, that requires a broader skill set than just technical carpentry skills, which Mark certainly has. Here, you also need to be good working with volunteers. As many of you know first hand, lacasa is blessed to have devoted volunteers that regularly give time to further the mission. Mark works alongside individuals and groups to make sure that they have appropriate tasks that contribute to our work in providing affordable housing.
"Mark has the knack of making an instant connection with volunteers," said Kate Irelan, Volunteer Coordinator. "He was a lacasa volunteer himself, before being hired as our carpenter. He gets cards, letters, Facebook friend requests and once even a birthday present from former volunteers!"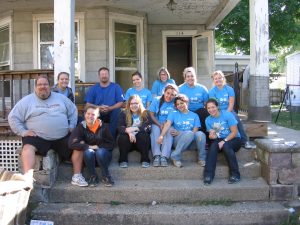 Mark (far left) with a volunteer group from Lewis University
I asked Mark a few questions about his experience working at lacasa: Views are his own.
Your role at lacasa
Mark Morris Carpenter
How long have you worked at lacasa?
Four Years
What is your favorite part about working at lacasa?
Helping people better their homes and selves and also working with volunteers
What is something that you value about working here that is different from what you have experienced working with other employers?
That you can see the direct affect that my work has on people.
What is your take on the benefits we get at lacasa?
I love them. It's part of what keeps me here.
How's does lacasa's mission match up with your personal sense of mission?
It matchs up very well. I love doing Carpentery and helping people with those skills.
What else would you say about your experience working at lacasa?
A lot of places say that family comes first, but that's not always true. Here it is.
Thanks for all you do here Mark!
Working at lacasa comes with some benefits that are hard to duplicate. lacasa's staff is mission-minded and excellence-oriented. We see lives changed daily by the work we do. If you or someone you know would be a good fit for the lacasa team, check out our open positions here.
Take action!
Keep Mark hard at work serving the community by making a donation!
Keep Mark busy by volunteering!