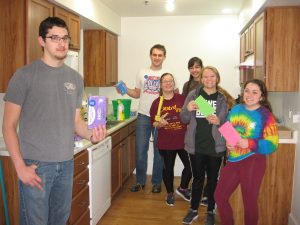 From March 6 – 10 of this year, two groups of university students donated their spring break to improve Elkhart County.  lacasa, Inc. has a long tradition of working with university volunteers through the Alternative Spring Break Program (sometimes called Alternative Student Break). The first group to come in 2005 was from Northwestern University.  Since then, lacasa has played host to groups from all over Michigan, Illinois and Ohio, as well as some from further away, such as Vanderbilt University (where the Alternative Spring Break program got its start) and, for nine years in a row, Boston University.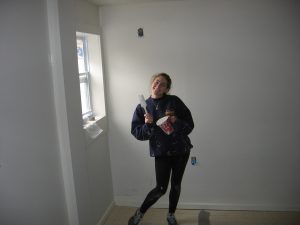 This year, lacasa worked with groups from Lewis University (Romeoville, IL) and Grand Valley State University (Allendale, MI).  The students traveled together as groups and lodged at two local churches: North Goshen Mennonite Church and St. Mark's United Methodist Church.
From 8:30-3:30 each day, the students worked alongside lacasa staff at 408 E. Lincoln Avenue in Goshen, a multi-family property that is part of lacasa's East Lincoln Crossroads Revitalization project (ELCR). This is the first of five dilapidated multi-family dwellings to be restored to quality, efficient and attractive housing.
lacasa works on renovations year round, and we are always grateful to have the help of volunteers, whether from far away or from right here in Elkhart County. To find out more about volunteering with lacasa, contact Kate Irelan at 574-533-4450 or kate.irelan@lacasainc.net.
Lewis University students with Aaron and Mark                               Grand Valley State U with Aaron, Kate & Mark