418 S 7th St, the second of 5 projects in the East Lincoln Crossroads Revitalization, is making progress. Help from the community is a big reason why.
The property is a great example of lacasa's revitalization work that so many people in Goshen appreciate. lacasa has impacted more than 540 Goshen properties through its Help-a-House program and other revitalization initiatives. In every case, partnerships with community businesses, churches, service groups, and individuals have been key to both the funding and, through volunteering, the actual work.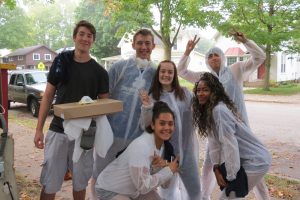 Groups from 1st Source Bank, Lippert, Darby O'Connor & Zaleski, Goshen College's Community Engagement Day, and the Goshen College cross country team have done a lot of demolition at 418 that is setting the stage for the more technical work to follow.
Our strategic plan states a goal to broaden our impact with neighborhood revitalization work by completing volunteer projects in all Elkhart County communities by 2021 and by making Community Building & Engagement services available to neighborhoods throughout the county.
lacasa currently has a full production pipeline and volunteers are needed as we seek to complete the East Lincoln Crossroads properties at a time when many contractors are very busy. Several people volunteer regularly and we would love to add to this group. Volunteering is both fun and fulfilling. If you can pitch in, a great way to get started is by texting IVOL to 51555. You'll get a link to a quick form and we'll follow up with you. Alternately, you can contact Kate Irelan at 574-533-4450 x17.